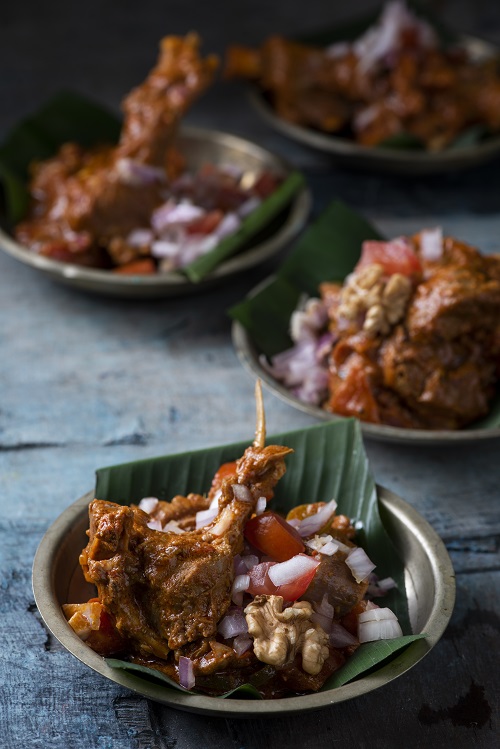 Walnut Gosht is a scrumptious main dish recipe that you can cook for your family and friends on special occasions and dinner parties. This Mughlai recipe is cooked using mutton, walnut, tomato, onion, coconut and a melange of whole and ground spices. The flavour is so strong that you cannot resist this mouth-watering non-vegetarian recipe. This mutton dish goes well with Biryani, Naan, Chapati, Steamed Rice and Pulao. If you are tired of the regular chicken and mutton recipes, try out this delicious gosht recipe that will tantalize your taste buds. You can try this mutton recipe for your loved ones on potlucks and parties, and they will love it for sure! Attempt this amazing dish and enjoy.
Ingredients of Walnut Gosht
400 gm mutton
1 cup chopped onion
1/2 tablespoon ginger paste
2 chopped green chilli
2 teaspoon coriander powder
1/2 cup coconut
1/2 cup chopped walnuts
water as required
3 tablespoon vegetable oil
1 cup chopped tomato
1/2 tablespoon garlic paste
2 teaspoon Kashmiri red chilli
1 teaspoon garam masala powder
1/2 cup halved walnuts
salt as required
2 tablespoon chopped coriander leaves
How to make Walnut Gosht
To prepare this mutton recipe, take a pressure cooker and put it over the medium flame. Add oil in it and when the oil is hot enough, add onions and cook until they are golden in colour. Then add ginger-garlic paste and stir for 30 seconds. Add green chillies and tomatoes and cook until they are soft.
Now, add Kashmiri red chilli powder, garam masala, coriander powder, salt and chopped walnut and stir well for a minute.
Add the mutton in the cooker and cover the lid of the cooker, let the mutton cook well. You may need to add some water, if it gets too dry. Close the lid of the cooker and let it whistle 4-5 times or till the mutton is cooked. Do not over cook the mutton else it will go mushy and mix in the curry.
Meanwhile, dry roast the coconut in a dry pan till it is golden brown. Transfer the roasted coconut into a blender and blend.
Now, add this coconut paste to the cooked mutton, mix well and simmer for 10-15 minutes. Turn off the flame and garnish with walnut halves and coriander leaves. Serve hot!